Will Yankees SP Michael Pineda ever learn?
Just two weeks ago, when the Red Sox and Yankees last faced off, he skated by after being spotted with a pine tar-like substance on the palm of his hand. Pineda dismissed the allegations by saying it was "dirt." The Red Sox let it go and didn't follow up or make an issue of it.
But Pineda wasn't finished!
During today's Red Sox-Yankees game, he was, once again, seen with a pine tar-like substance on his body. This time it was applied onto his neck.
He was ejected from the game, and will likely face a suspension from MLB. The real question is why he would resort to the same tactics after nearly getting busted the first time? Does he not trust his stuff? He was lucky the Red Sox didn't make an issue last time he faced them.
Fool me once, shame on me. Fool me twice—well, the Red Sox weren't fooled twice.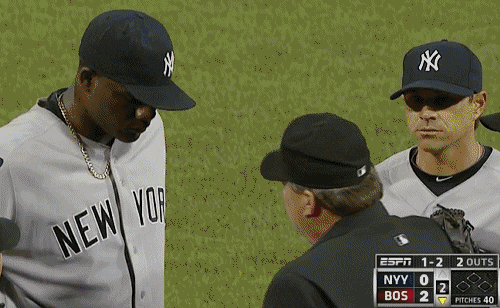 (H/T: Pete Blackburn, Sporting News)